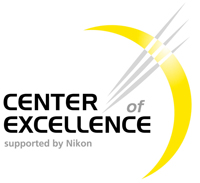 Nikon-Center
The global player Nikon runs a limited number of centres of excellence worldwide for testing and improving its microscopes, one of which can be found in Graz (in the framework of BioTechMed-Graz, an interuniversity cooperation). The masterminds behind are Wolfgang F. Graier from the Medical University of Graz and Sepp D. Kohlwein from the University of Graz.
The Nikon Center of Excellence currently comprises 3 microscopes in Graz, including the worldwide unique FRET/dual-N-SIM, which was conceived here in Graz and will be worth more than 2 million euros when completed. With the help of the FRET/dual-N-SIM microscope, subcellular processes can now be studied much more precisely and better than before, which could open up immense potential for combating cancer but also ageing processes.
Research field/Product range
Research and improvement of microscopes
Research cooperation
Contact us for more detailed information!